TENTOONSTELLING URBAN BIRDS & WAWOE - t/m 17 okt. 2015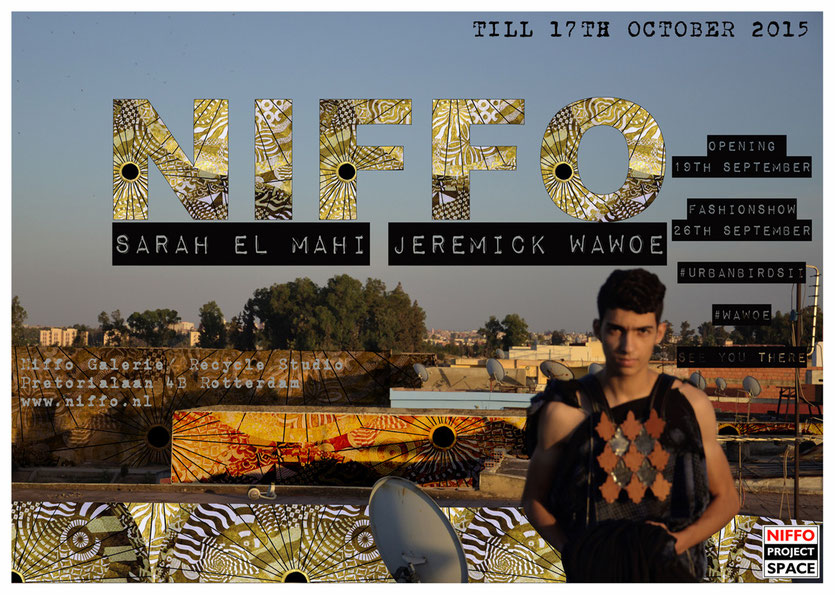 OPENING 19 SEPTEMBER
TIJD:         16.00 UUR tot 19.00 UUR
LOCATIE: PRETORIALAAN 4B
                  3072EM ROTTERDAM
                                                                             SARAH EL MAHI & JERMICK WAWOE
NIFFO: een plek waar deze twee kunstenaars elkaar ontmoeten en een nieuwe wereld creëeren. Geniet van hun zoektocht binnen een reis naar verlichting door kunst. Laat je inspireren en vind je eigen authentieke zelf!
Vision: "What I find significant as a designer in my collections, is authenticity and my roots. 
It is my mission to translate my vision to a new generation lost in old traditions within a new reality, to inspire Urban Birds to take the flight back to their roots and understand we are a new hybride form of the original."
Jermick Wawoe (Curaçao, 1985)
At the age of nineteen Jermick discovered a passion for art making, ink drawing in particular. His main focus for the last years has been on developing and exploring new forms. He is experimenting on surfaces of a variety of objects, textiles and stones.
He is keen on having his own signature style of 'complex pattern' ink drawings, which he's achieving by tapping into his personal
emotions.
These unique complex patterns are created from the necessity to give voice to his journey in soul searching from chaos into order, from hell into heaven, from darkness to light.
His work of practice developed from a dark place within, to bend artistically in shaped form and patterns into beauty.