THE PAIN OF SLAVERY - VAN 4 JUNI TOT 18 JUNI 2023
Opening tentoonstelling THE PAIN OF SLAVERY - ANDRA DAANS
Zondag 4 JUNI 2023
Van 14.30 uur tot 17.00 uur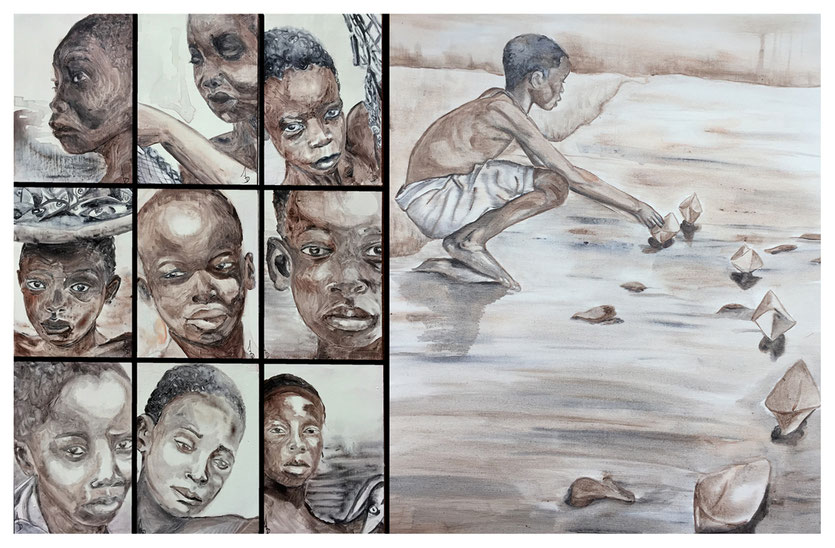 "The Pain Of Slavery is based on the story my father shared. My father's great-grandmother was born into slavery. Grietje Sara (Sasa as my father called her) born +- 1854/7 (on the plantation Groot Chatillon - Bov. Suriname). Despite slavery was abolished six to ten years later, the whip marks were still visible on her back. In 2021, I set myself a challenge to acknowledge history. 2023 will be a commemorative year, it will be 150 years ago that slavery in the Netherlands was abolished in Suriname.
150 children's portraits, one for each year. When we think of enslaved people, we tend to think of adult people, but we forget that the enslaved population quickly began to sustain itself through natural reproduction. Enslaved children experienced their childhood within the atrocious slave system that existed within Suriname and many other places in the world.
The disturbing truth is that we know less than we should know about childhood enslavement. That is why I decided I want to give these enslaved children a face.Even though slavery has been abolished, poverty worldwide has fuelled new forms of enslavement and once again children are the main victims, without a voice nor face. I decided to broaden my project and not only tell the history of slavery but also show that slavery has a modern face too. This resulted in my fifteen stories of narrative drawings.
That is how the project: The Pain Of Slavery came about. 
The Pain Of Slavery, is a testament to the story of slavery. History is cruel, and the theme of slavery, as it is represented in art should not be excluded from viewership within public places. Art gives voice to those not otherwise heard. Pain of Slavery series represents many unheard voices. It is a culmination of a dream to bring those voiceless in the art world to the forefront. Art creates peace, understanding and healing. It's a way to display a wide range of emotions, scenes, and events. History has left important artworks that help us understand the landscape of a particular era."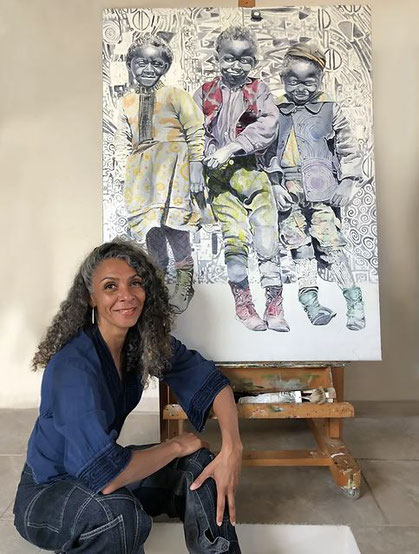 BIOGRAPHY
Andra Natascha Daans (1962) is born in Rotterdam, the Netherlands. Her mother is Dutch, her father is from Suriname. Her roots are visible from the outside and for her tangible from the inside.
Andra Daans starts her art career at the Royal Academy of Art in The Hague (1983-1985). She continues her study in Rome at the Free Academy of Fine Arts (1985-1989). During that period, she is invited to take part at The International Biennale, Malta (1987) and participates in a group exhibition in Rome (1988).
For many years she travels back and forth and lives in two worlds. In the Netherlands she has a business career and in Italy she works as an artist. In 2016 she decides to become a full-time artist and moves to Italy.
In 2023 she moves to France.
The last few years she is focusing on developing a contemporary style with her distinctive personal signature. The result is her series of 'Portraits of Life', based on true stories. Her paintings and drawings reflect on the life of the main character(s). Without losing reality.
Andra Daans is represented by Blackbird Gallery (US)