MORPHOLOGY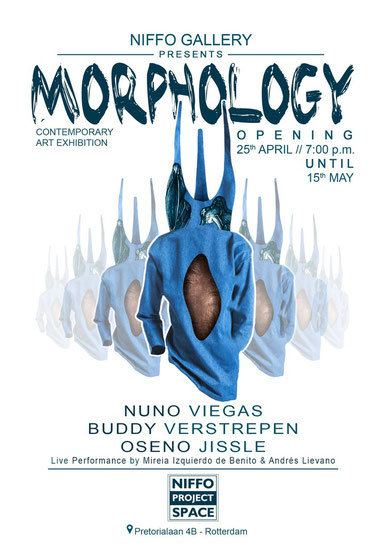 VERNISSAGE MORPHOLOGY

25TH OF APRIL 2015 AT 7.00 P.M.
Live performance by Mirela Izquierdo & Andrés Lievano
MORPHOLOGY is a hybrid crossover exhibition that will give you a glimpse of the possible future we are entering, three artists coming together.

A mix of art, design, fashion, photography and philosophy, this future will have no boundaries or limitations, a world of total form freedom where different disciplines are meeting and melting together to create new ways of thinking.
ARTISTS:  
Buddy Verstrepen
Nuno Viegas
Oseno Jissle 
Buddy Verstrepen was born in Holland (1991) and is mostly a conceptual product designer, specialized in organic & futuristic products, who's passionate about biology, science and philosophy. 
He believes that because we are all products of nature and because our existence couldn't be possible without the surrounding forces and the evolutionary path we've taken, it only makes sense to follow the same rules and path in creating new additions to our world. This is how he tries to design all of his works, organic shapes that look like they've been grown by evolution.
This fascination for the world and its development continues in the art he makes, the black and white ink drawings and the acrylic paintings he makes are always highly organic and follow a certain natural flow, he likes to play with the physical world and the mental one and grows the two together in his pieces. Biology, psychology and philosophy are leading subjects in all his artworks.
In this exhibition Buddy will present a few of his product with the concept development which are an visualization of his way of thinking, organic designs influenced by evolution.
Nuno Viegas
Nuno Viegas is a Portuguese Visual Artist born in Faro (1985), raised in Quarteira, currently living in Rotterdam - Netherlands. With graffiti as a root and a starting point into the art world Nuno is nowadays a multidisciplinary artist working on street art, mural and canvas painting, installation art, video and photography.
Influenced by the street/urban culture, especially by the graffiti movement, his artwork always links with it even if it's just at a conceptual level. 
Photography have been a part of his lifestyle and as a teenager he was the kid with the camera shooting all type of events and happenings surrounding his life. To this exhibition Nuno will bring together art and photography presenting you with a series of photos revealed with an alternative photographic process, known as Cyanotype.
Oseno Jissle
Oseno  Jissle  Asikinde is a former top athlete who was forced to stop his great love for Judo after a great amount of injurious. His love for the Japanese culture goes all the way back to his childhood years, obsessed by the samurai and their costumes, it only made sense to him to practice a sport in which he could also where the kimono. After being forced to quit Judo the obsession for the kimono still remained. The sharp lines, neat folds and especially the minimalism inspires him till this day, in every collection you will find a subtle reference to the costume of the great warriors. Besides old cultures Oseno Jissle also gets a great deal of inspiration from music and nature. Besides the visual aspects of the elements water, earth, air and fire, they also had a spiritual role in the creation of his latest collection.