MNNPLY ART EXPO BY MENNO VAN GORP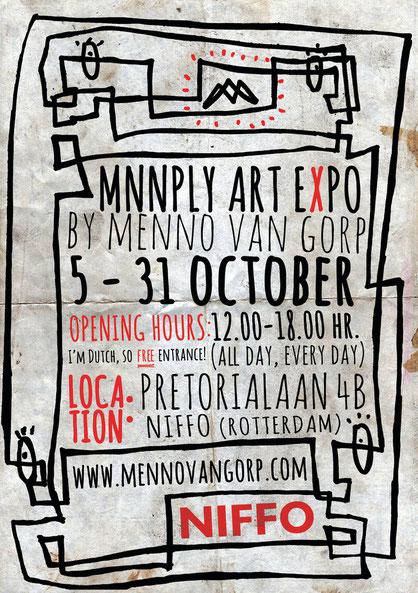 Menno van Gorp is born Feb. 7, 1989 in Tilburg, the Netherlands. At the age of 11, he fell in love with a dance called 'bboying', and ever since, this dance and its culture became his life, passion and work.
In 2005, he chose to focus on his dancing career, while already being recognized in the Dutch scene after becoming a FUNKYSTYLES member in 2003. Together with Xisco, a childhood friend, he became member of DEFDOGZ, one of the realest crews from France, and he co-founded the Dutch crew HUSTLEKIDZ.
With HUSTLEKIDZ, he won the Dutch National Title over 5 times and started winning battles in Europe as well. In 2007 he really put himself on the map, winning CIRCLEKINGZ with Xisco. In London he won the UK Champs World Finals, defeating the world top in this prestigious 1 on 1 Battle competition and thus, at only 18 years old, he became one of the first Dutch bboys to claim a big title.
His unorthodox style consists of unpredictable moves, which make him travel over the floor, trying to make the unlogical seem simple and understandable.
"I try to do everything and mix it in an original way, I don't have a typical style.
I have my own style: punchlines."
At a young age, he already enjoyed taking photos. As his bboy career evolved, he got more travelling opportunities and started visiting interesting and beautiful places, his interest for photography grew. At first he wanted to apply to study at a school of photography, but due to the many trips, the decided to learn the art of photography all by himself.
In 2012 he moved from his hometown Tilburg to Rotterdam (Holland). At that time it was freezing outside and he had no TV or Internet. In order to not get bored, he started drawing, and while drawing his style evolved, switching from pencils to paint. He found a love to make art, as it is a new way to express his creativity. His style of art is related to his way of breaking; in form, flow and transition.
One day, he printed one of his artworks on a t-shirt and he received many positive reactions. His brand 'MENNOPOLY' started, combining art with fashion.