HUISKAMER FILM & ARTISTS TALK - 29 JAN. 2017
ZO. 29 JAN. 2017
TIJD: 15.30 UUR
PRETORIALAAN 4b
3072EM ROTTERDAM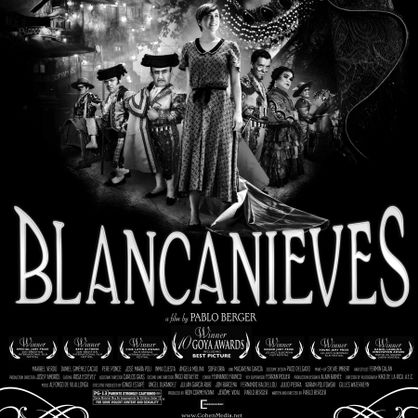 The choice of the artist for this afternoon is Blancanieves.
Blancanieves(known as Blancaneu in Catalan) is a 2012 Spanish black-and-white silent drama film written and directed by Pablo Berger.
Based on the 1918 fairy tale "Snow White" by the Brothers Grimm, the story is set in a romantic vision of 1920s Andalusia.Berger calls it a "love letter to European silent cinema."
Blancanieves was Spain's 85th Academy Awards official submission to Best Foreign Language category, but it did not make the shortlist. The film won the Special Jury Prize and an ex-aequo Best Actress "Silver Shell" Award for Macarena García at the 2012 San Sebastián International Film Festival.
It was also nominated in every category for which it was eligible at the 27th Goya Awards (except for Best Sound), winning ten Goya Awards, including the Best Film.