AUSTRALIAN POP DREAMS - KIRBANU / 17.11.2016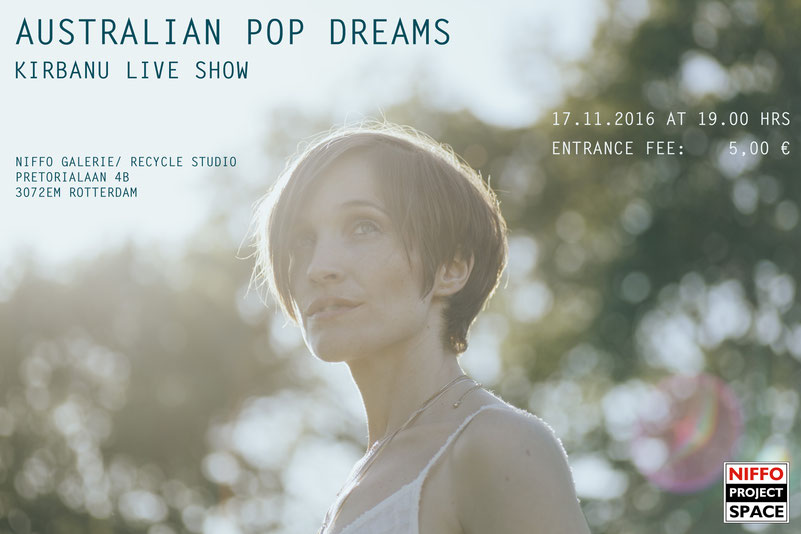 AUSTRALIAN POP DREAMS - KIRBANU LIVE SHOW
17 NOV. 2016AT 19.00 UUR
ENTRANCE FEE: 5,00 €
After a successful performance year in 2015, Australian folk/pop singer-songwriter Kirbanu is back in Europe, to share her 2016 album Drifting.
A traveler in the world as well as within herself, Kirbanu collects stories, weaving them into engaging songs that are brimming with heart and soul. It is music that can ease the mind and take the listener on a journey to somewhere wonderful. 
Kirbanu travels extensively, performing over 100 live shows per year throughout Western Europe and Australia and has performed at several Indie Music Festivals: The Adelaide Fringe (AU), Seven Sisters (AU), Blue Balls Festival in Luzern, and the International Songwriting Festival (DK).
On stage Kirbanu is vibrant and passionate, traveling together with her audience on the journey into the music. Mixing emotions and themes, it is a constantly engaging show, where skilled guitar play meets a powerful voice of endless beauty and potential.
It is a musical experience not to be missed!
Social Media: