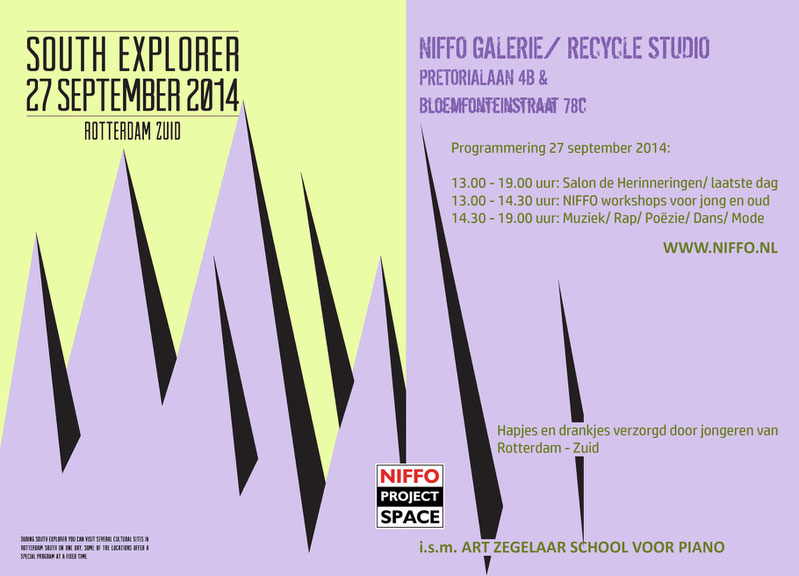 SOUTH EXPLORER: cultural hotspots, galleries, artist studio, art shops open their doors on one day with a splashing program. Scroll and Swipe 13 hours through Rotterdam South, from Rijnhaven to Bloemhof, Tarwewijk, Carnisse and Oud-Charlois. Art, music, poetry, film, food, jewelry, books, photography, pub and party.
Organisation: Galerie Hommes, info@hommes.nl
27 September 13.00 – 28 September 02.00 
How to get there?
By bike two options: cross Erasmusbrug and jump into Afrikaanderwijk, follow the map. Or enter the Maastunnel for bikers , pop out in Oud-Charlois and follow the map.
By Public Transport: Metro exit Rijnhaven and walk around. Take Tram 2 from Maashaven to Charlois and walk around.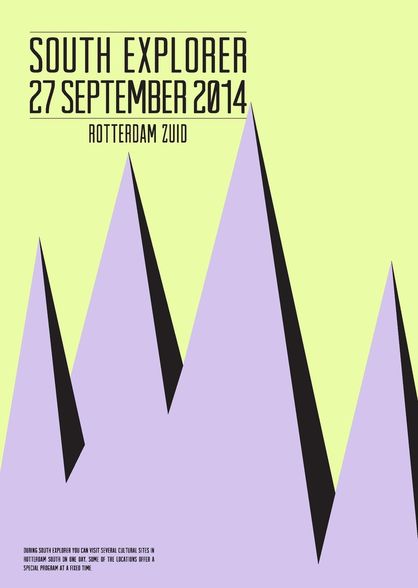 RAAF

Hillelaan 19
www.raafrotterdam.nl
12.00-21.00 hr
RAAF is the information point \"This Is the South\", a creative working studio, a stage with a diverse cultural program and a homely Dinner café: that is RAAF! Check the website for program.

NIFFO GALLERY / RECYCLING STUDIO 
Pretorialaan 4B 
http://www.niffo.nl/home 
13.00-19.00 hr.
Salon of Memories. On this project - which will be implemented in multiple locations - will participate artists, street artists, performers, hidden artists, poets, a vocal studio, creative outsiders, but also young people from Feyenoord and residents.

Stadnomaden 
Putsebocht 58b
www.stad-nomaden.nl
13.00-18.00 hr. exhibition
18.00-20.00 hr. walking buffet
Art in the Tent with work made by Herman Lamers, Netty van Osch, Christine Saalfeld, Bart van Lieshout and others. The urban farmyard Putsebocht will be transformed to tent village. Walking dinner with live music and singing chicks. The dinner is on reservation (€ 7,50 incl 1 drink) email to post@stad-nomaden.nl.
Bob Smit Gallery 
Putsebocht 62c
http://www.bobsmit.com/
13.00-17.00 hr
Bob Smit is a young dynamic gallery, temporary hosted on the first floor of a house in the South of Rotterdam. Groupshow A Small sculpture show with works of Rob van der Hoeven, Paul van den Hout, Stefan Gross, Olaf Mooij, Sandro Setola, Koen de Vries, Tjalling Visser, New Sculpture Department & Onno Poiesz.
Werklicht Exposé 

Putsebocht 78b

www.werklicht.eu

13.00-17.00 hr.
Exhibition - Shared Moments. Niels Smits van Burgst (NL1970). His paintings have been exhibited in many cities like New York, Berlin, Amsterdam, Brussels and are in collections all over the world. In 2013 Museum \'de Buitenplaats\' honored his work with a retrospective. He was rewarded the Van Ommeren de Voogd-price-2007 and the Aku-2011.
13.00-17.00 hr. Model drawing (feel free to join)
15.00 & 15.45 & 16.30 hr. Music by Fatal Blue
13.30 & 14.30 hr. Poetry performances

Theater aan de Laan 
Dordtselaan 19
www.aviewwitharoom.nl
13.00 hr eerste voorstelling 
16.00 hr tweede voorstelling

Entitled A View with a Room the Rotterdam Wijktheater will play two performances which local residents Tarwewijk were interviewed from the roof that offers such a beautiful view over the city. Dutch spoken. At the end of the performances is the opportunity to drink something.
Cultuurwerkplaats Carnisse, Ebenhaezerstraat 51 
Cultuurwerkplaats Tarwewijk, Mijnsherenlaan 120 
www.stichtingzuidzijde.nl
13.00-18.00 hr.
Cultuurwerkplaats Carnisse: ongoing video screening with short films from Aline Keller - 'Nature lyric video improvisations\'. Cultuurwerkplaats Tarwewijk: ongoing presentation of the first results of the research of Wim Leussink and Robert Tau about the general en literal Histories of the Tarwewijk. 14.00-16.00 hr. live presentation and conversation.
Koffie en Ambacht 
Ebenhaezerstraat 52a
13.00-18.00 hr
https://www.facebook.com/koffieenambacht
Here you can enjoy delicious coffee and homemade biscuits, sandwiches and salads, concentrated work, get inspired and have a nice chat while Lies Klaus restores furniture or DJ\'s.
Charloisse Poort 
Katendrechtse Lagedijk 450
www.charloissepoort.com
13.00-23.00 hr
Tess van Wijnen invited Jim Impelmans and Arjan Elenbaas. With coarse lines Impelmans start his portraits, then gradually destroying them by painting and literally throwing the paint together. Elenbaas shows detailed ballpoint drawings with humans and identity as the central subject. 
20.00 hr Kunstenaarscafé, chat and lounge with a drink and the records of DJ Ernst Walgenbach.

Studio Pompstraat - Pompi 
Pompstraat 44c
https://www.facebook.com/studiopompstraat

Multidisciplinary space with 6 studios and shared project space occupied by artists working internationally and within the Netherlands: Jasper Niens, Jochem Rotteveel, Kevin Gallagher Martha Atienza, My Anh Hang, Nick Koning, Paco Dalmau, Rob Hebing, Yoshiyuki Koinuma. Open studio and exhibition.
Cateringa & Kompanen 
Wolphaertstraat 23c
www.cateringa.nl (what) /www.facebook.com/kookboek (updates)
13.00-19.00 hr.
Cateringa & Kompanen is a collective that operates on the playground between the food-experience, senses and art. They take food as the starting point for interactive multisensory experiences. The 27th we will test the development of our hand-powered CMYK-punch printer. On you.

Wolfart Projectspace 
Wolphaertstraat 25
www.facebook.com/groups/38776706637/
13.00-19.00 hr.
Wolfart Projectspace supports and gives space to exhibit contemporary art and culture. This in the form of exhibitions, workshops, lectures and meetings in and around the south side of the river in Rotterdam. During SE opening group exhibition curated by Joshua Thies and Petar Tuskan.

Galerie Hommes 
Charloisse Kerksingel 14
www.hommes.nl
13.00-19.00 hr.
Solo exhibition Julien Beaucourt, paintings and sculptures. Gallery shop with unique and multiples from € 30 to 250. Espresso bar with homemade cakes. 
On the first floor and the roof terrace sculptures from Malou Cohen, Dirk van Lieshout, Helen Vergouwen, Frank Heijnen, Anton Vrede en Mary Geradts.
Japans cultureel centrum Shofukan
Charloisse Kerksingel 32-14
www.shofukan.nl
14.00-22.00 hr.
14.00-15.00 and 15.15-16.15 hr. workshop Shodo (Japanese calligraphy), entrance € 5,00 (reservation recommended).Shofukan offers the opportunity of an inside experience of Japanese culture, in an inspiring environment through lessons or training in chanoyu, do-in, ikebana, Japanese language, kobudo, shiatsu etc.
The Team Rising Sun - Movie Night @ Shofukan
18.30-20.30 hr. Screening of Megane (Glasses) - a Japanese comedy film from 2007. Screening of Megane (Glasses) - a 2007 Japanese comedy film. What is the normal urban lifestyle and mindset? Is it so important to take one\'s time and appreciate life? Let\'s research the Japanese present generation\'s minds... Entrance € 3.
Tot Gouw 
Gouwstraat 56c
https://www.facebook.com/TotGouw
13.00 -17.00 hr.
Going backwards, upside down, inside out At studio collective Tot Gouw you can choose yourself where to go inside, for instance through the backyard or basement! Walk from light to dark or dark to light and get yourself surprised. On the street a selection of the work is for sale. 15.00 hr. official opening of the new gallery ARTstude by Member of the Dutch Parliament and art historian Carla Dik Faber.
walgenbach art & books 
Gouwstraat 15
www.walgenbach.nl
12.00-18.00 hr.
15.00 hr. opening Exhibition: Ad Schouten, Works on Paper 
Ad Schouten questioning the autonomy of art in relation to art forms that arose under the influence of totalitarian systems like Social-realism and Nazi-art.
GIL & MOTI HOMEGALLERY & ATELIER
Zuidhoek 276B
www.gilandmoti.nl
13.00-22.00 hr.
What happens when an actress: Shertise Solano, and a painter: Ronald de Graaff meet? Roles can be swapped and reexamined; the painting comes alive, life can be acted. It is certainly not any more BLACK and WHITE in the debut of the artist couple. A multi sensual presentation. 
17:00 hr. live performance. Don\'t miss it!
Foundation B.a.d 
Talingstraat 5
www.foundationbad.nl
13.00-02.00 hr.
13.00-17.00 hr. 
SuperAmazingLovelyExhibition: (Guest)artists of B.a.d exhibit their work
SomeArtistsLikeEditions: Book, sketch & edition sale, live portraitstudio & more! 
SurelyAllLoveEducation: Several lectures
SomeArtistsLackExercise: Petanque competition
17.00-20.00 hr. SuchALivelyEvening: Open vinyl stage: bring your own records!
19.00 hr. SuperbAndLekkerEating:Tasty, healthy & almost for free
22.00-02.00 hr. Turntable Thunderbirds: Vinyl DJ Party